Saint-Gobain
Live
Latest news of our Group
In France, the brand Asturienne is creating an exclusive training program to train and recruit young apprentices in roofing.
Dahl Optimera Norway is electrifying its entire corporate fleet and installing a dense network of charging stations. The aim is to achieve perfectly clean transportation.
More than 150,000 sq. m of ISOVER insulation solutions were used in the construction of the world's largest ocean liner: Wonder of the Seas.
Two industry market leaders, Saint-Gobain Ecophon and Lindab Group, enter a partnership for new indoor environment systems that combines a sound acoustic environment with healthy indoor air.
At the heart of many expectations, the issues of diversity and inclusion are part of Saint-Gobain's Sustainable Action program in France.
Placo® has inaugurated the Pierres Blanches solar park located on land adjacent to the gypsum quarry in Pouillon (France), a first for the brand and for the Group.
The Saint-Gobain Foundation has launched its new website.
In Europe, Saint-Gobain's solutions combine history with the future and help to make renovation a major lever for achieving the Group's 2050 goal of maximizing its positive impact on its customers and minimizing its environmental footprint. Here are two exemplary initiatives: one in Paris (France) and the other in Lüneburg (Germany).
On September 29, Chryso, a global player in the construction chemicals market, joined Saint-Gobain. With a culture and values similar to those of the Group, Chryso strengthens our offer of solutions for sustainable construction. Find out more about this company and watch the presentation by Benoit Bazin, CEO Saint-Gobain, Thierry Bernard, CEO Chryso, and David Molho, CEO High Performance Solutions.
Saint-Gobain
Web review
The webzine around our business
"Le directeur général reste confiant à l'égard des conséquences possibles de l'inflation, la principale inquiétude économique pour 2022. "Nous avons anticipé les hausses de prix l'année dernière en prévenant nos clients pour qu'ils anticipent leurs achats." Crédit Photo : Eric Piermont - AFP.
A few weeks ago, Benoit Bazin, CEO of #SaintGobain, while on a field trip in North America, was the first guest on the new podcast "Hey Change Podcast ».
@AnneTherese_G 
and Robin Shaw, he discussed sustainability and the future of the cities.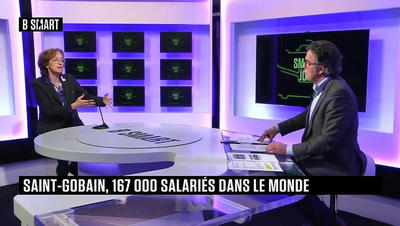 Mardi 4 janvier 2022, SMART JOB reçoit Claire Pedini (DGA en charge des RH et de la RSE, Saint-Gobain)
Benoit Bazin, DG de Saint-Gobain et Pierre-Etienne Bindschedler, PDG de Soprema, estiment que "les perspectives du plein emploi ne sont plus hors de portée". Il appelle les personnes en recherche d'emploi à rejoindre le secteur de la construction.

+ de scoops