Web review
The webzine around our business

"Le directeur général de Saint-Gobain Benoit Bazin va devenir PDG du groupe à partir de juin 2024. Pierre-André de Chalendar, l'actuel président du groupe, lui cédera son siège à cette date. Cette nouvelle organisation doit notamment permettre une meilleure exécution des orientations stratégiques dans tous les pays où le groupe est présent."
En prélude au Sommet de l'économie, qui se déroulera le 23 novembre, Benoit Bazin, directeur général de Saint-Gobain, détaille comment se décline le mot "partage" à tous les étages de la multinationale.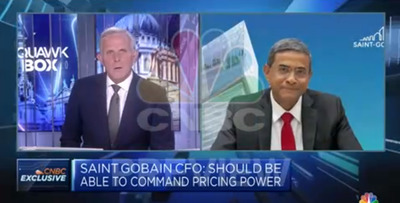 "We are very confident to deliver once again, a new record margin in 2023 which will be the third consecutive year of the double digit margin that the group is going to tell you about." Sreedhar N - Saint-Gobain, CFO.
More scoops